Way(s) to school
Way(s) to School is a 26 documentary series filmed throughout the world telling the story of the perilous journeys young children from different countries take to get to school.
These incredible stories are marked by the universal theme of the quest for a better life through education ; an ideal embodied by the incredible journeys these children take to reach their school.
All children have a common thirst for learning. Instinctively, they know their future depends on knowledge, thus on school. From every corner of the world, every child dreams of their classroom. Their horizon is the blackboard, but to reach the desks of their faraway schools, they must brave thousands of difficulties along the way. Their routes to knowledge, often taken within majestic landscapes, are as dangerous as they are exhilarating.
On their amazing journeys to school, little by little, they leave behind their childhood through these brave adventures plagued with difficulties and surprises. For some, the journey is a solitary one, for others, it is a group experience, with fellow classmates, or brothers and sisters. Some walk, ride bikes, or ride horseback , others take pirogues, buses, trains or sleighs.
BUT FOR ALL OF THEM,
AT THE END OF THEIR JOURNEY,
IS THEIR SCHOOL.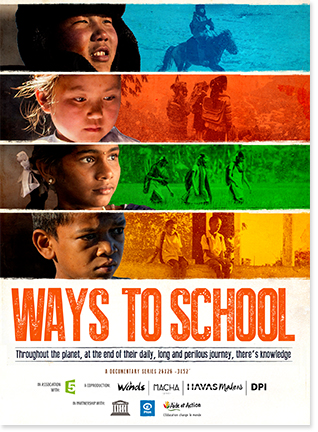 Trailer
A Coproduction : WINDS, MARCHA PROD with the participation of CNC, PLANETE+ FRANCE TELEVISIONS
Produce by : Barthélémy FOUGEA & Stéphanie SCHORTER
Associate Producer : Anne-Marie ADER
Original music : Santiago WALSH
Generic Music : Laurent FERLET
Directors : Emmanuel GUIONET et Yann L'HENORET
Original idea : Pascal PLISSON
Writer : Marie-Claire JAVOY
Investigation : Lucie BOUDAUD & Delphine CAMO
Narrator : Marika CAMILLERI
International Distribution : FRANCE TELEVISION DISTRIBUTION