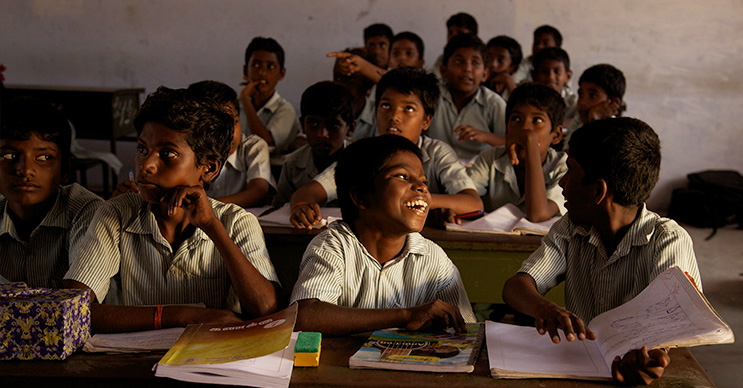 GENERAL INFORMATION
1258 351 000 inhabitants
29,8% of the population lives beneath the extreme poverty line, with less than 1,25 dollar per day to live ( source : World Bank).
Number of deaths per child under 5 years old for 1000 births : 65 ( source : UNESCO )
EDUCATION BY NUMBERS
13% of adults are illiterate. 49% of women are illiterate as opposed to 25% of men ( source :UNESCO).
Enrollment rate for children from 6 to 14 years old : 96% (source : The Annual Status of Education Report 2012)
2,3 million primary school-age children are not sent to school and 62% of these are girls.
Out of 10 registered children in the first year of primary education 8 enter the last year of secondary schooling. The gaps grow wider at the beginning of the second cycle of secondary education (high school grade).
WHAT IS AT STAKE
Schooling rate for children from 6 to 14 years old ( school obligatory at this age in India) has improved consistently since 1990. But in the last few years, the number of children who are not sent to school has risen slightly( from 3,3% in 2011,to 3,5 % in 2012).
Enrollment rate in private establishments has grown quickly, from 18,7% in 2006 to 28,3% in 2012. At that rate, almost 50% of school-age children could be sent to private schools by 2018.
The quality of the educational environment has improved : 73% of vetted schools are connected to a drinkable water system, 56,5% have functional latrines and 87,1% offer midday lunches.
In parallel, the quality of education is deteriorating, especially in terms of learning progress results : in 2012, less than the half of the children who were in the fifth year of primary school could read a text intended for second year primary school children ( with a wide gap between private school children and children from governmental schools) and only 53,5% of them could solve a a simple subtraction with two numbers ( source : The Annual Statys of Education Report 2012).