JACKSON's dream is to become a lawyer for, in his own words, "help his family, his village, his nation .."
In a few days JACKSON will join the School of Law of the prestigious University of Nairobi in Kenya.
Do you want to support Jackson and accompany him on the University Path?
Contact us to know the details of his university scholarship, you will allow him to draw his future.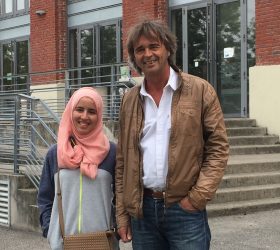 Today is a big day for Zahira: she join the University of Bobigny
We followed her on the Way to l'University
Zahira with Barthelemy Fougea, President of the Foundation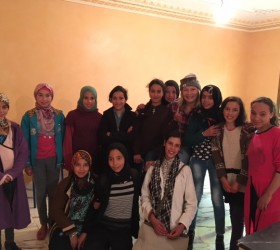 RIM Association created the first girls' home in Asni, enabling Zahira and other girls living in distant douars to continue their schooling in college and high school.
Wafa Skalli, president of RIM, had told us of an interview she had with Zahira: the question "what more could you do for you?" Her response had moved us: "that other girls in the valley could benefit They also of this chance that I had "
A few months later, thanks to the unwavering mobilization of the RIM volunteers and in particular of Azelarab Alaoui, the team on site, the CSSF and our Association "On the way to school", we are happy and Proud to announce to you that a new home – run by the local association Agharas N'Tinmel (on the way of the school in Berber 🙂 was born in early November and hosts 20 young girls students of the college of Asni !
On our way there a few days ago, accompanied by Zahira and a second class of the Lycée Arbez Carme we were able to meet them and meet the people who supervise them.
Of course, beyond its implementation and start-up, we continue to raise funds for its operation.
Are you interested in this project?
Know that 50 euros per month per girl are enough to cover the expenses of their reception.